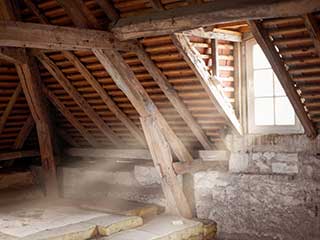 So, you've put everything you had to store upstairs, in the attic, the place where all the forgotten things go to or end up eventually, packing it more and more with each item you threw in there. After a few months it became a chaos up there, and after seeing the mess it has become, you have simply quit going up there, and started stuffing things in the closets within the house. If only you've made a different choice and hired professionals to clean it all up for you, enabling you to reorganize the area much more efficiently, things would have been a lot easier! But you CAN make a smarter choice, knowing how important it is to clean the attic. Here's how you can benefit from our service!
Preventing the Chaos from Spreading across the House
When you choose to handle the chaos that has accumulated at your attic with professionals, you actually make the choice to stop it from spreading and getting worse. Meaning, soon enough the closets in your house will be free of the extra load and your attic will be organized once again. Who wants to live in a chaotic house by choice? Especially when it is so simple to hire our fair priced services and restore order today.
It Is Time to Put an End to Not Being Able to Find Anything When You Need It Most
Wouldn't it be nice to prevent the situations that happen exactly when you're in a hurry and you can't find your favorite jacket or scarf, because it is buried under all of your winter clothes on the top shelf of your closet? Wouldn't you agree that this will be a good time to clean up? If you do, we couldn't agree with you more. Call now and our team of professionals will arrive to clean it all up once and for all – no matter what the current condition of your attic is – our technicians have seen it all before.
Instead of waiting for the attic's condition to get out of hand, take things into your own hands and call for Attic Cleaning Fremont services today, and we will take over the situation and bring it back to the good old days, when your attic was all cleaned up.
We also offer:
Crawl Space Cleaning & Decontamination