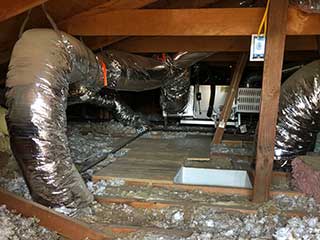 Every conscientious homeowner should learn to see their crawl space as an important part of their house. In fact, research suggests around 30% of the air we breathe every day comes directly from this area. This stands particularly true for older, leaky homes. Chances are you are repelled by the idea of visiting this space at all - especially considering the amount of dust, debris, and smell that's accumulated there. Luckily, we're here to step in. We are committed to helping families across Fremont achieve a healthy and safe environment while keeping their energy bills under control.
Better Energy Efficiency
Have you noticed a sharp spike in your monthly energy bills compared to what it used to be? A poorly insulated crawl space can boost your heating costs by up to 50%. We'll carefully inspect any areas that may have been poorly insulated and double-check your home's heating and cooling system is running at its peak efficiency.
Rodent & Mold Infestation Remediation
One of the biggest causes of air contamination in your home is caused by animal infestation as well as mold and mildew growth in your crawl space. We'll perform a stellar clean-up job after you've had the vermin removed so that further spreading of these culprits remains prevented. Getting rid of the contaminants is only a half of the job. Making sure their traces are eliminated to keep the problem away rounds the solution up.
Cleaner Than a Whistle
Regardless of the amount of dirt that has been accumulated underneath your home, count on us to professionally clean, decontaminate and secure the area. After we leave, you will enjoy a healthier environment and a more energy-efficient home altogether. No more skyrocketing heating bills, no more chewing noises at night. Just a prompt and competent team you can fully rely on today. Got any questions or concerns we can help with? Please get in touch today or schedule an appointment with our crew.