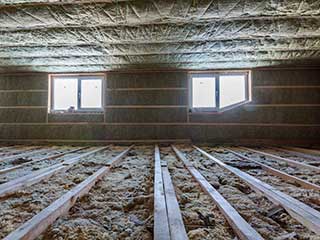 Why Should You Get Insulation Installed?
If your house already has insulation, and it likely does, why should you get more? If you cringe seeing your energy bill every month, the answer likely is because your attic doesn't have enough! An improper amount of it in your home means you're losing money monthly, thanks to heat escaping. Rather than running for a little while and stopping, your heater must work continuously to keep your home warm enough.
With air conditioning, poor insulation makes it far harder for the temperature to stay stable, so this also results in it needing to run more frequently than it should. This is how your bill skyrockets, but it doesn't have to!
Quick, Efficient Service
With our trained team, we can take out your old insulation that's no longer getting the job done, and replace it with the right fit for your attic. Depending on where you live, and more so the climate of the area, the amount you'll need will vary. This is referred to as the R-Value.
If there's mostly warm weather then less insulation, or a lower R-Value, is necessary. The opposite is true for colder climates. Thankfully, our experts have been working in homes just like yours in the area for years, so they'll already have a good idea of what will be best suited for your home.
They can also assist you in determining what type is best. Fiberglass is fire resistant and less messy to have installed, but it's not green-friendly like cellulose. Cellulose can also be treated with fire-retardant to make it resistant, and isn't itchy. Whichever you choose, we can easily and safely put it in for you, no problem. You can trust no matter what that we'll use the best materials available, and put the insulation in with the highest-quality tools.
Don't Wait Any Longer!
Rather than avoiding looking at this month's energy bill, it's time to do something about it! Call Attic Cleaning Fremont, and let us give you a hand. As our name suggests, we also perform professional attic and crawl space cleaning and decontamination.
Need more? We also provide:
Residential Attic Cleaning
Radient Barrier Installation
Air Duct Repair and Replacement
Crawl Space Waterproofing