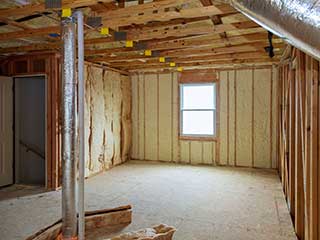 By now, you probably already know that an insulated attic can make a massive difference in your home. Here are the top 3 reasons to have your attic insulated today!
Reduced Energy Costs

Energy efficiency is one of the most important hallmarks of modern homes. We are always on a lookout for new ways of saving money on utility costs. One of the most important steps towards improved energy conservation in your own home is to insulate your attic. Not only will you drastically reduce heat loss, but you will also have the cool air stick around for longer during the hot summer days. Statistics vary from person to person but reports of savings reaching up to 50% have been reported.

Temperature Balance

If your home is poorly insulated or completely lacks insulation, chances are you may have experienced uneven temperatures between rooms. For example, your family or guests may have noticed cold and warm areas within the house. This usually forces homeowners to fiddle with the thermostat to adjust it to the right temperature, thus straining their HVAC system and reducing its longevity. An efficient insulation helps in keeping the overall temperature even in both hot and cold conditions.

Prevents Moisture From Entering

When an attic is properly insulated, it will keep the temperature of the roof at an adequate level, without melting the snow and leading to ice formations. The subsequent moisture can not only damage the roof and cause persistent damage to your home but can also seep into the interior and attract mold. With correct insulation in place, you will have peace of mind knowing your attic is less fragile and protected at all times.
If you're thinking of installing new insulation in your attic, why not give our professional team a call? We excel at what we do and we won't charge you insane rates for our service.