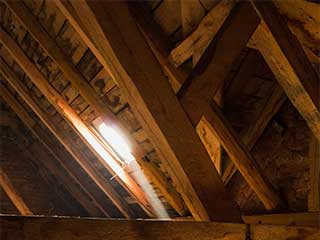 Are you in the market for a high-quality attic insulation removal or replacement service? Look no further - our professionals will leave your attic looking as good as new in no time. Every single one of our highly-trained, talented team of professionals is committed to performing an excellent job every time they're on duty. Our wide range of attic insulation services will fit every budget and residential or commercial need.
Professional Inspection
Once at your door, our experts will perform a thorough inspection of your current attic insulation. From there, they can advise you on whether you should remove, upgrade, or replace the material. If you're not sure your insulation is contaminated, our technicians will examine it in detail to determine any signs of infestation. They will also look for signs of water damage and mold growth. In some cases, a simple clean up or a mold remediation service is all it takes. In severe cases, the whole insulation needs to be removed and replaced.
Removing Old Insulation
Whether you decide to have your insulation removed because it's contaminated, old or anything in between, we are ready to get right on it. We take every removal job seriously, particularly if there are signs of contamination. Such insulation is dangerous because the contaminants easily become airborne and spread around your house. In order to reduce this health hazard, we follow the safest removal procedures and practices.
It is important to remember that removing contaminated insulation by yourself can be a dangerous and difficult task. If you have no previous experience in this process, you should let a professional handle it.
High-Quality Customer Service
At Attic Cleaning Fremont we pair the highest level of service quality with the most affordable prices. Your satisfaction is our top priority - therefore we are committed to tailoring our service to your specific needs and budget. You will be in control of the entire process, knowing what's happening every step of the way. Let us know if you need any help removing your old insulation today!