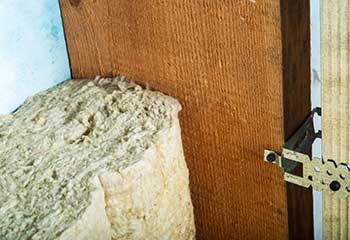 Spray Foam Insulation
Customer Issue: Mr. Entau had an attic he wanted insulated and secure for storage purposes ASAP.
Our Solution: There wasn't very much in the attic yet, so prep work was minimal. Everything got sprayed, and some fiberglass panels over the ceiling slants needed to be resecured as well. The end result was an attic with no uninsulated surfaces facing the outdoors.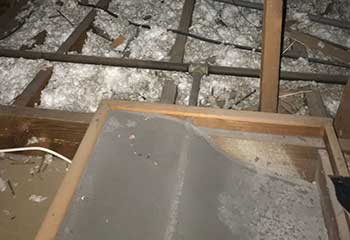 Commercial Rodent Proofing
Customer Issue: Needed to keep rodents out of his work space.
Our Solution: Our team thoroughly inspected the building, searching for sensitive areas. We sealed all gaps and holes with industrial grade substance, attached metal bristle strips to all the doors and left humane traps in strategic spots to catch the occasional rodent that may find its way inside.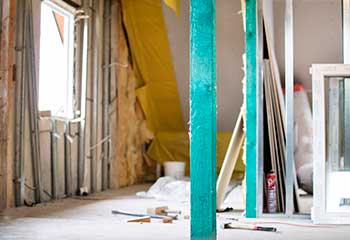 Attic Air Sealing
Customer Issue: Air leaks in the attic.
Our Solution: As we already knew the location and cause of the leaks, we applied expanding-polyurethane foam to seal the gaps around the new wiring of the lights, creating a continuous air barrier that will prevent air flow to and from the attic.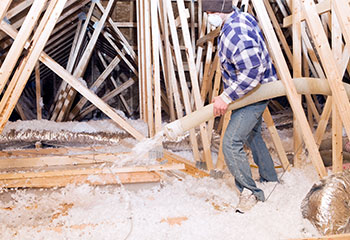 Spray Foam Insulation
Customer Issue: Wanted his new attic to be insulated.
Our Solution: We applied the spray foam insulation in the new attic while other tradespeople were working on-site. Using our special equipment we sprayed the dense closed-cell foam onto the attic walls allowing it expand and fill all the spaces.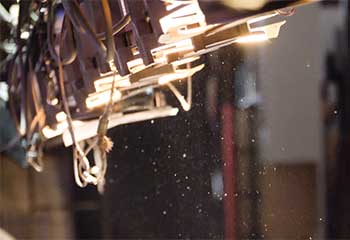 Rodent Proofing
Customer Issue: Our customer found rats and field mice were entering her home from a field next to her complex and they chewed right through her metal screen vents.
Our solution: Our team set traps and eliminated the problem by sealing all entrance openings and installing rodent-proof heavy-duty screens.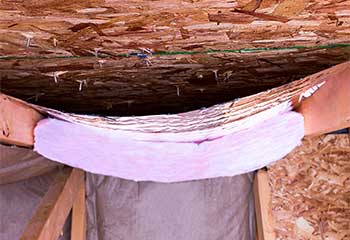 Attic Cleaning
Customer Issue: A storm had blown open the attic windows and left debris throughout this customer's attic.
Our solution: We cleaned all the debris from the attic, sealed all air leaks and replaced some damaged insulation. The customer was happy with the results and our low price.
Maurice Butler
- Union City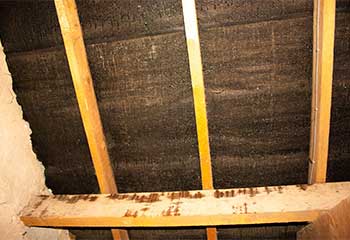 Attic Insulation Removal
Customer Issue: A kitchen fire burned parts of this customer's attic insulation and there was water damage from when firemen extinguished the blaze.
Our solution: We removed the damaged insulation, cleaned and dried all exposed surfaces and sealed all air leaks and crawl spaces. We installed fresh new batt insulation with a radiant barrier.
Melanie Terrance
- Fremont